Richard Allen is another of my favorite tweeters and I've just read his short story "Last Night". Here's what I thought of it.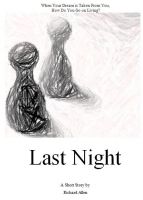 The story begins with an unnamed narrator, a writer, working in his uncle's restaurant. Working along side him is Roger. Roger is an unlikely football jock who has always been nice to the narrator for whatever reason. The narrator tells us about Roger's tragic story of getting injured and being unable to play football again.
The story continues with a conversation between the two about what you would do if you couldn't do what you love anymore and it ends with chills running down your spine!
Richard's writing style is very appealing to me. It's very detailed, yet simple, and has little focus on dialogue in the beginning, which usually turns me off, but the dialogue in the end and the narrator's thoughts make up for that. The story is so realistic that you almost wonder if it's a part a Richard's life.
I recommend that you all go pick up a FREE copy of "Last Night" on Smashwords! (Yes, it's free!) After that you can check out Richard Allen's Blog, his Facebook Fan Page and his Twitter!